yes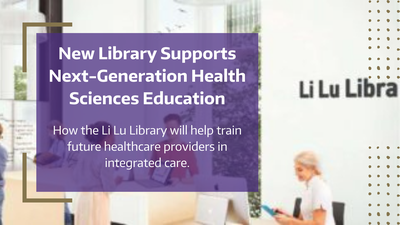 April 28, 2022
New library supports next-generation health sciences education
Opening September 6, 2022,
The Li Lu Library
will be in the new Health Sciences Education Building (HSEB).
Programs and services, currently in development, will incorporate Interprofessional Education (IPE), Active Learning, Simulated Learning, and Information Synthesis & Data Management and adapt to user needs and feedback as we establish our new presence as a hub for active and team-based learning.
HSL's team of Clinical Research and Data Services librarians provide student consultations on all aspects of the research cycle and library services, and their support will be incorporated into IPE in the Li Lu Library. Additionally, our Information and IT specialists will introduce students to learning technologies for hybrid learning with the library's tech-enabled collaboration spaces. The Li Lu library will help form interdisciplinary collaboration using team-based learning. This will support engagement with our programming, increase the interest in inter-professional scholarly publishing, and improve the accessibility of library resources for students, faculty, and researchers.
For anyone who's ever been shushed in a library, the Li Lu Library will be a welcome change: Not only is talking allowed, this space was actually designed to encourage conversation and collaboration.

The University of Washington's new Health Sciences Education Building (HSEB), set to open in late 2022, is one of the state's first integrated training facilities, where students studying to become nurses, dentists, social workers, physicians, pharmacists and public health professionals train and learn together. Central to the building's functionality is its 21st-century library, which offers future healthcare professionals the spaces and technology they need for collaboration and interprofessional learning.

[...]

Named after the donor who gave the first major philanthropic gift toward the new HSEB, the Li Lu Library provides students with flexible, innovative and connected spaces for accessing information and working in teams. The library's open spaces, filled with natural light from floor-to-ceiling windows, are designed to leverage technology and adapt to changing student needs. The library also plans to have reservable offices, digital video and presentation technology, and a staffed service desk.