UW Health Sciences Library
HSL Narrative Summary
The mission of the Health Sciences Library (HSL) at University of Washington (UW) is to advance scholarship, research, education and healthcare by anticipating information needs, by providing essential resources and services, and by facilitating learning for the greater health sciences community. To achieve this mission, the librarians, professionals and student workers of the HSL support and collaborate with a wide set of users from students, faculty and researchers at UW to librarians, health professionals, researchers and interested citizens in the state of Washington and the Pacific Northwest. For example, currently, HSL supports UW Medicine, faculty employed at the School of Medicine, and faculty across the Washington, Wyoming, Alaska, Montana and Idaho (WWAMI) region programs and medical students and trainees. Some examples of the support provided include, but are not limited to:
Educating and assisting users to identify, evaluate and manage information
Providing on-site and remote access to information resources in a variety of formats
Offer a shared physical and virtual learning commons in support of evidence-based practice and life-long learning
Conducting literature searches and providing research support
Additionally, HSL specifically supports the education and research of six schools at UW:
HSL's collection budget is almost exclusively used in electronic journal and database subscriptions offered through its website, allowing users to access potentially life-saving information both on and off-campus. Its core collection strengths focus on clinical reference tools, biomedical and health sciences research databases, role-specific toolkits (or portals), research guides, and evidence-based healthcare resources. As of 2022, HSL has:
357 databases, from point-of-care resources like DynaMedex to research databases like ClinicalKey
21,329 eJournals
386,618 titles
782,335 print volumes
Affiliated users have access to resources throughout the entire UW Libraries system as well as regional consortia. These users also have library services provided by the entire UW Libraries in addition to those provided by HSL. All of this can be accessed via the HSL website that includes online toolkits and research guides to help manage information overload.
As UW Medicine becomes an accountable care network of over 70 medical centers, hospitals, clinics and individual and group practices and the push for expansion of the five-state WWAMI residency program, the library and librarians are tasked to provide quality services in the arena of health information, including:
In-person support and study spaces are provided at two library locations on the south end of UW's Seattle campus. The Health Sciences Library covers 62,000 sq. ft. across two floors in the Warren G. Magnuson Health Sciences Center, with more than 250 computers and seating for up to 600 users. HSL's third floor offers space for collaborative open group study while the second floor is a designated quiet study area including 10 individual or group study rooms. The site also features small, medium, and large meeting or event spaces and the Commons Computer Lab, which supports the educational missions of the six health sciences schools by hosting computer-based exams and classes. In 2022, HSL opened the 1,870 sq. ft. Li Lu Library in UW's new Health Sciences Education Building, an integrated interprofessional education facility where students from across the health science schools learn core courses together. The Li Lu Library provides seating for 60 with flexible, innovative, and connected spaces for accessing information and collaborating in teams.
HSL partners with the Washington State Department of Health to manage HEALWA , an on-demand platform providing affordable, anytime, online access to current, authoritative clinical information and educational resources to eligible healthcare practitioners across the state. The program is well-received by Washington State health care providers as a primary source for evidence-based information in support of patient care. As the only evidence-based, statewide health information portal in the country, this unique and forward-thinking program continues to attract attention and interest from health care provider groups within Washington State and beyond.
In 2021, HSL received a five-year grant from the NIH to lead the Network of the National Library of Medicine (NNLM) Region 5 program, with Tania Bardyn serving as the PI. The Region 5 Regional Medical Library (RML) ensures that health professionals in Alaska, California, Hawaii, Nevada, Oregon, Washington, and U.S. Territories and Freely Associated States can obtain high-quality health information from the National Library of Medicine for research, clinical or public health practice and carry out regional and national programs. The RMLs ensure a continuity of quality service for core programs of the NNLM, and cooperatively design, implement, and evaluate innovative approaches to serve the health information needs of health professionals and a diverse public.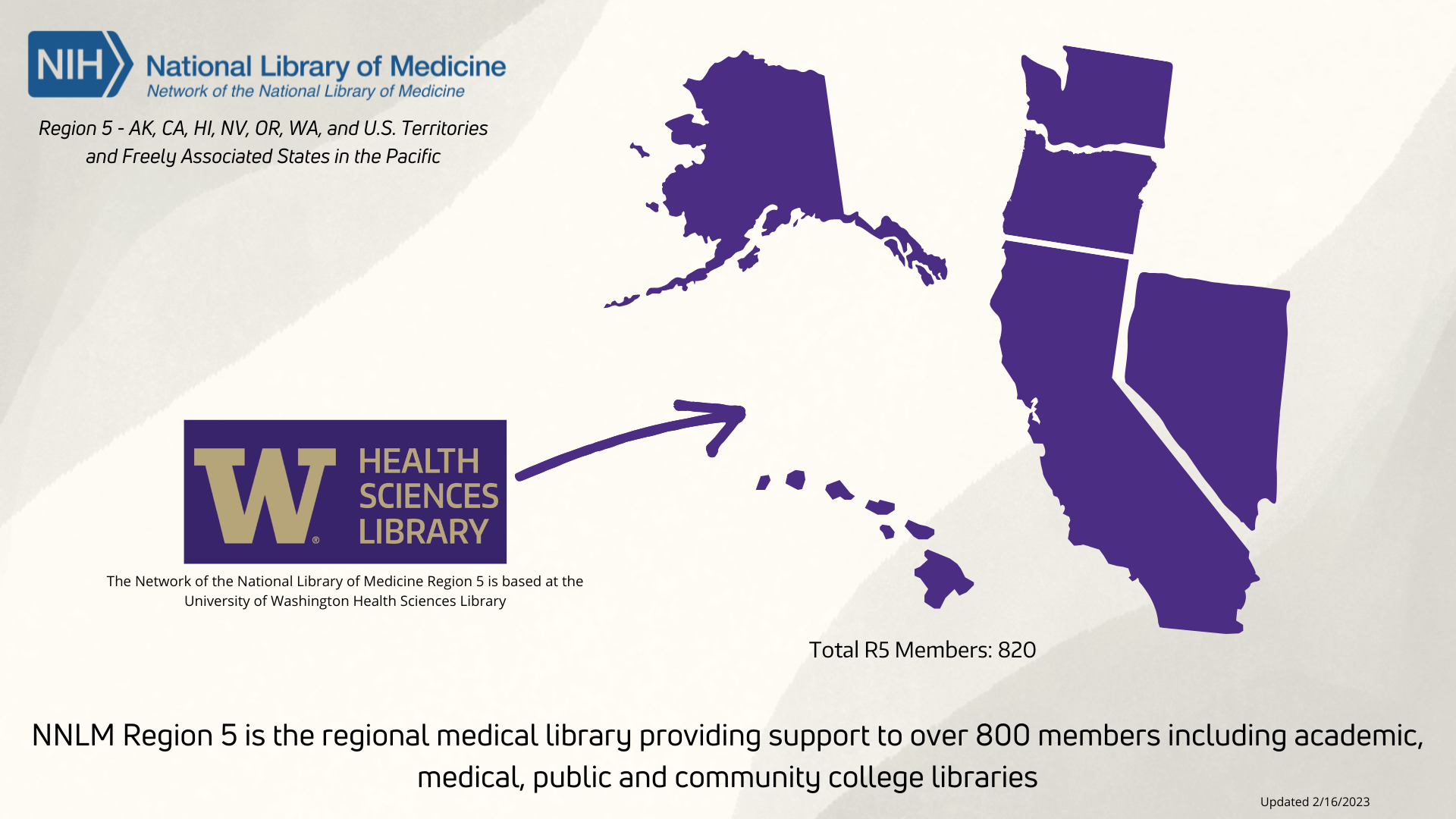 As healthcare changes, HSL and its librarians continue to look forward to providing innovative services and resources to ensure its users can achieve the "Triple Aim" goals of quality patient care experience, improving the health of populations and making healthcare more affordable.