UW Health Sciences Library
About the Lab
Mission: Support the educational missions of the Schools of Dentistry, Medicine, Nursing, Pharmacy, and Public Health
Location: Health Sciences Library on the upper level in the T Wing of the Health Sciences Building
Funding: Hardware and software in The Commons is supported by the Student Technology Fee.
Wireless Access
UW Wireless internet access is available throughout the library.
Visitors can obtain a temporary UWNetID to connect to wireless in the library.
Commons Classroom Information
Teach with multimedia and networked computer resources. Students can do hands-on computer work.
Four computer classrooms (A, B, C & LTL) allow health sciences instructors to teach with multimedia and networked computer resources, with provisions for students to work hands-on with a computer on their own or in groups.  Various capacities and workstation arrangements accommodate different teaching styles. Additional instructional equipment is available. Contact the lab manager, Paul Ludecke, or email hsllabs@uw.edu, for more information or to make reservations.
Instructional Support
More info about: Reservations  | Software
Food and Beverage Policy
Food is not allowed in the Learning Commons computer areas. Covered beverages are allowed.
See the Libraries Food and Beverage Policy for more information.
Printing
Laser printing is self-service and must be paid with a Husky Card or Dawg Prints card
Laptop users can get assistance with installing printer drivers at The Commons Help Desk
Instructional Support
All classrooms are equipped with:
High color projection system/SmartBoard with speaker system connect to instructor station
Whiteboard
All computers access the Internet and the campus network via Ethernet
The following equipment is also available. Request equipment when making reservations to ensure availability.
Network port and setup help for instructor laptop
Speaker podium
Portable amplifier with microphone
Easel
Extra chairs
USB microphone and audio recording software
Additional details can be found on the Commons Software and Hardware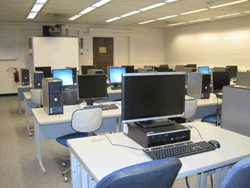 Classroom A
Capacity: 40 students
20 student PCs
Student stations arranged in 4 rows facing the instructor station
The wall between classrooms A and B can be opened to accommodate larger classes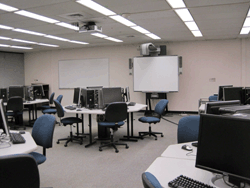 Classroom C
Capacity: 48 students
24 student PCs
Student stations are arranged in six pods of four computers each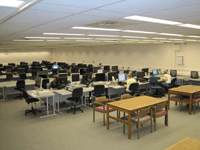 Commons Open Area
49 PCs
Access to the Lab is limited to current UW students, faculty, and staff - see our policies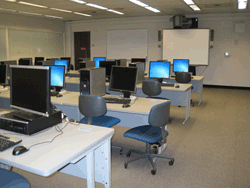 Classroom B
Maximum capacity: 40 students
20 student PCs
Student stations arranged in 4 rows facing the instructor station
The wall between classrooms A and B can be opened to accommodate larger classes
Library Teaching Lab (LTL)
Capacity: 24 students
12 student PCs
Student stations are arranged around the perimeter of the room