yes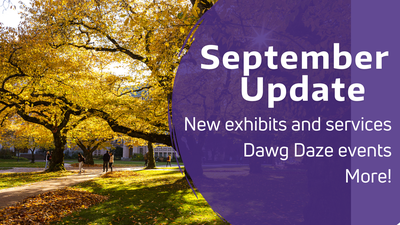 September 15, 2023
Fall Update: Welcome to the Libraries 2023
Welcome, Huskies!
Whether this is your first year or twenty-first year, welcome back to UW and UW Libraries! For new students, be sure to check out all of the fun and informative Libraries Dawg Daze events. Come visit our new and remodeled spaces at the Tateuchi East Asia Library and the Open Scholarship Commons!  Be one of the first to sign up for our annual US Constitution reading event! UW Libraries are here for you in person and online, so get to know us and all the ways we can support your journey of teaching, learning and research at UW!
Essential Guides
Be sure to bookmark these "one stop shop" web pages for quick reference and access to all of the services, tools and resources provided to you by UW Libraries.
Dawg Daze with UW Libraries September 20-29, 2023
UW Libraries is hosting a wide variety of fun and informative events to introduce you to all of the amazing resources, programs and tools that can help you succeed your first year, and beyond! Explore our spaces, meet our staff and connect with other students throughout the week including tours, special events for first generation and transfer students, trivia games, karaoke, a film screening, gift card prizes and more! Check out all of our events in one place and "save the dates" !
News and Stories
Visit the Open Scholarship Commons in Suzzallo!
After 18 months of planning and construction, a new space for collaboration and open scholarship support is here! Come check out this attractive new technologically-rich space on the ground floor of Suzzallo Library. The OSC is designed to help you learn about open scholarship, create projects, and share research using a host of UW-Libraries open, digital tools and resources. Learn more. Learn more. 
Suzzallo Library featured in Seattle Time's "most stunning architectural details" feature. We are excited to be included in this special "sampling of wow-worthy architectural details from downtown and surrounding neighborhoods, arranged chronologically within each area" (Hint: Suzzallo is toward the end of the story). Read the story by Lawrence Kreisman
The Research Communication and Equity Fellowship showcase at the UW Libraries' Research Commons celebrates the academic and creative work of Black, Indigenous, and People of Color (BIPOC) graduate students. Learn more.
New Exhibits and Displays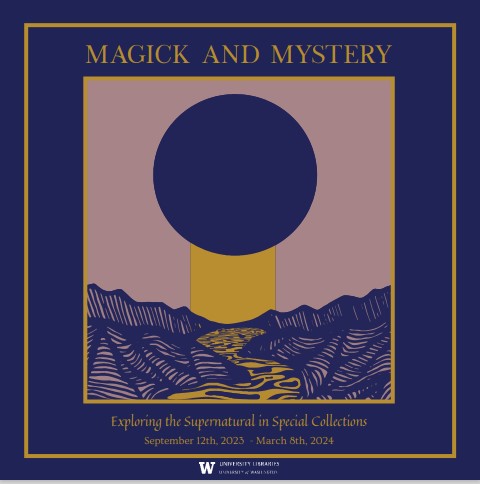 Special Collections
EXHIBIT: Magick and Mystery: Exploring the Supernatural in Special Collections – Opens September 12. Explore the supernatural in this exhibit featuring all manner of magic and mischief. Opening in Fall 2023 and running until the end of Winter Quarter 2024, Magick and Mystery will feature items from Special Collections, in the UW Libraries, on topics ranging from local folklore and mysteries to 19th-century spiritualism, and even TikTok tarot trends. Learn more.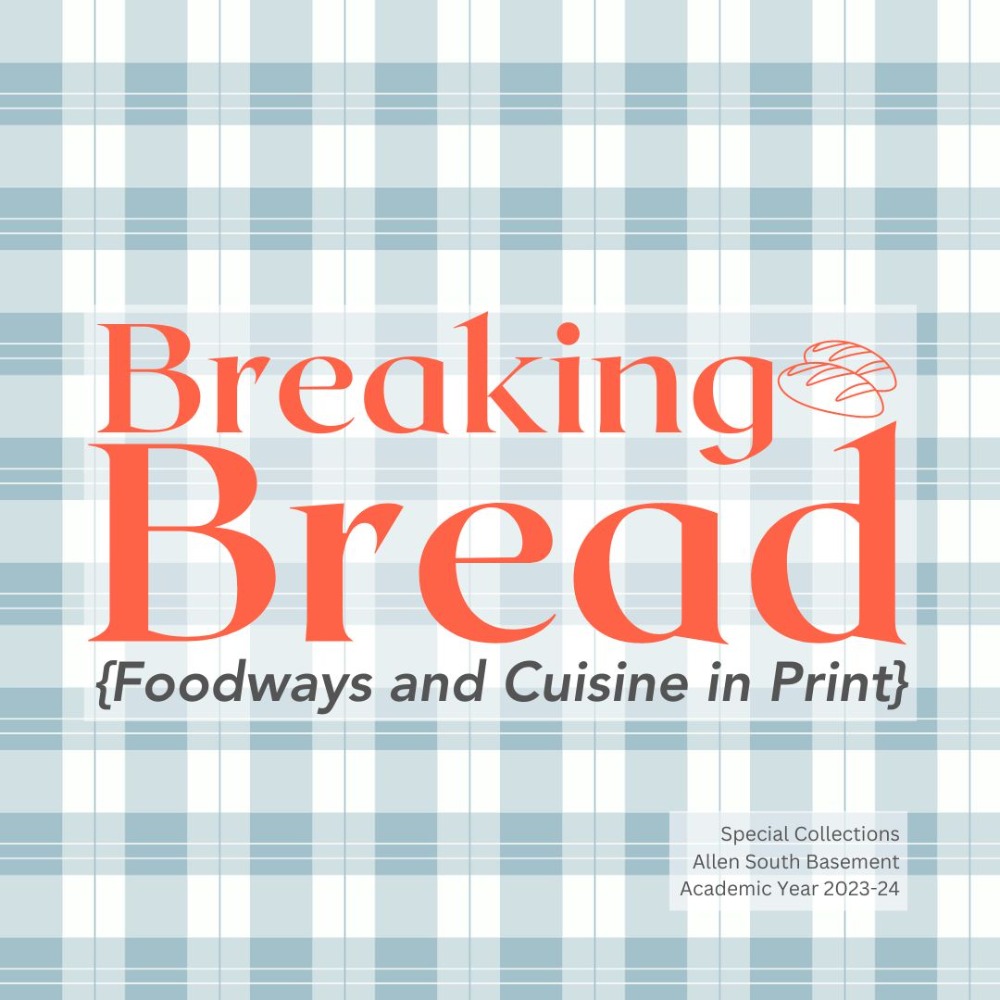 EXHIBIT: Breaking Bread: Foodways and Cuisine in Print – opening September 26 For the 2023-24 academic year, Special Collections is featuring items in our collections that connect to a multitude of different foodways and food cultures. With four rotations at the end of each quarter, the items from Special Collections demonstrate complex systems of cultural celebration, continuance, and suppression that are wrapped up in food systems. Learn more. 
Summer Camps: Notes on an American Tradition– Extended Through September 25!
Summer's gone, but our summer camp exhibit is still here! See it before it's gone. Explore the great American tradition of summer camp and the many ways it reflects the cultural touchstones of our times. From the earliest days of scouting, iconic Seattle summer camps to the contemporary camp experience. Allen Library, North lobby. Don't miss it!
Tateuchi East Asia Library faculty display: As part of celebrating the reopening of the Tateuchi East Asia Library, a new display inside the library will showcase recent publications of East Asia Studies faculty and instructors. Come see the new space, learn about the library and all of the amazing research coming from our UW community!   Learn more.
Events
Readers Wanted: Join us October 6 for the annual UW Libraries'  live reading of the US Constitution! Sign up early to have your pick of sections! Sign-up is open to the public and students are highly encouraged to participate! All are welcome to attend and listen to the LIVE reading in Suzzallo Library. Learn more.
1999 WTO Protests film screening: Although both Seattle and Washington State authorities expected some organized protest to the WTO ministerial meeting on November 30, 1999, few were prepared for the scale of the protest that occurred leading to tear gas, transportation shutdowns and intervention by President Clinton. Learn More.
Recurring/Monthly Workshops
Digital Scholarship Project Help Office Hours- Thursdays in September: Learn about getting started with digital projects at UW. We offer consultations for research and course related projects. Examples include support for digital publishing, building digital exhibits, and more! We can help you find the right tools, resources and instruction whether you're just getting started or are working on an on-going project. Learn more
Health Sciences REDCAP Trainings
 Provided by the Institute of Translational Health Sciences and UW Health Sciences Library.
REDCap 201 – Data Dictionary- September 19: Meant for users who want to create or edit larger studies quickly by using the Data Dictionary, this class assumes that you have some working knowledge of REDCap and Microsoft Excel. Learn more 
Pressbooks
Advanced Pressbooks Publishing Webinar- September 20 This training session is open to all users on hosted PressbooksEDU networks (including the University of Washington) and is designed for users who have some familiarity with Pressbooks and are ready to engage in more complex activities, like adding interactive elements or integrating Pressbooks with supported third-party tools. Learn more
Save the Date
First Wednesday Concert Oct 4, 12:30 – 1:30pm
Students of the UW School of Music perform in this lunchtime concert series co-hosted by UW Music and UW Libraries.