yes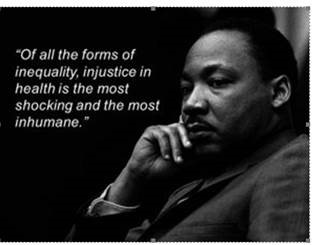 January 10, 2023
Dr. Martin Luther King Jr. and Health Equity
Martin Luther King Jr. Day January 16th, 2023
UW Health Sciences Library celebrates the life and legacy of Dr. Martin Luther King Jr., a prominent leader of the civil rights movement who championed health equity. Dr. King's activism and dedication created a more equitable health environment for Black citizens and other minorities in the U.S. Despite his invaluable contribution and the progress made over the years, health inequities for marginalized groups and disadvantaged communities persist, but there are organizations working towards closing the health disparity gap.
UW Organizations and Resources
iDENTity: Student organization that promotes diversity and inclusion of the LGBTQ+ community in dentistry.
Seeds of BAMM: A group of Black students at UW School of Medicine working toward creating an environment at UWSOM that protects Black patients and students.
Students of Color for Public Health: Provides a space for students of color interested in Public Health through personal, professional, academic, and social support and promote health within marginalized communities through education and service.
Office of Healthcare Equity, UW Medicine: Aims to deliver on the UWM mission to improve the health of the public by ensuring that policies and practices focus on equity, social and health justice.