yes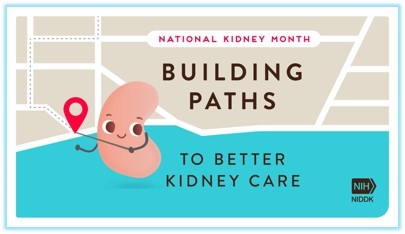 March 10, 2022
Resource Spotlight: National Kidney Month
March is National Kidney Month!
The campaign for 2022 is Building Paths to Better Kidney Care. The National Institute of Diabetes and Digestive and Kidney Diseases reports that an estimated 37 million people in the U.S. have chronic kidney disease, but many don't know it. Diabetics and those with high blood pressure have a greater risk of developing kidney disease. Because American Indian, African American, and Hispanic communities have higher rates of diabetes and high blood pressure, they are also at greater risk for kidney disease.
NIDDK suggests three ways to help care for your kidneys including actively participating in your care with your health care team; following your care plan and staying up to date on your vaccinations; and building a kidney healthy lifestyle by eating healthily, staying active, and maintaining a quality sleep routine.
UW Resources
HSL Anatomical Models